1859 – 1918
Menu
Gweld y Plac yn Gymraeg
View the Plaque in English
Darganfod mwy am Syr Samuel Thomas Evans yn Gymraeg
Discover more about Sir Samuel Thomas Evans – in English
Brief Timeline
1859  4th May born and raised on New Road, Skewen (1). 
Educated at Neath Abbey Works School, Swansea Collegiate School and Aberystwyth University.
1883  Legal career began via a partnership with Solicitor Alderman Pendrill Charles of Neath.
1887  Married Rachel Thomas who died in 1889.
1890 Returned unopposed as Liberal MP for Mid Glamorgan holding the seat for the next twenty years. 1891 Admitted to the Middle Temple and called to the bar.
1901 Appointed as Queen's Counsel by Queen Victoria.
1905 Married American Blanche Rule de Pinto (2) and set up home at Lancaster Gate, London (3).
1905  Skewen Library in the Carnegie Hall opened by the new Mrs Evans.
Blanche and Samuel were instrumental in obtaining the funding(4).
1906 -1908 Held the position of Recorder of Swansea.
1908 Became a Bencher in the Middle Temple and appointed Solicitor General by Liberal leader Campbell Bannerman.
1908 Knighted by King Edward VII.
1910 Appointed to the Probate, Divorce and Admiralty Division of the High Court (5 & 6).
1916  Received an Honorary Doctor of Law Degree from the University of Wales. 
Also made a Freeman of Swansea and Neath.
1918 September died in Brighton. His body was returned to Skewen for burial in St John's Churchyard (8).
1921 Marble bust of Sir Samuel unveiled in the Middle Temple (7).
Sir Samuel Thomas Evans QC, MP, GCB, Ll.D: a Life – 1859 – 1918
Samuel Evans has been described as "a man with an extraordinary range of intellectual gifts and interests and an energy and application to work of almost superhuman proportions" (George Eaton, M.A.). Yet he came from humble origins, the only son of John and Margaret Evans, both originally from Carmarthenshire, who established a grocery business in Skewen, where Samuel was born in 1859. A plaque on 40, New Road, Skewen marks the house where he grew up, with the grocer's shop on the ground floor and living quarters above and below the shop, and a bake house for public baking in the back yard.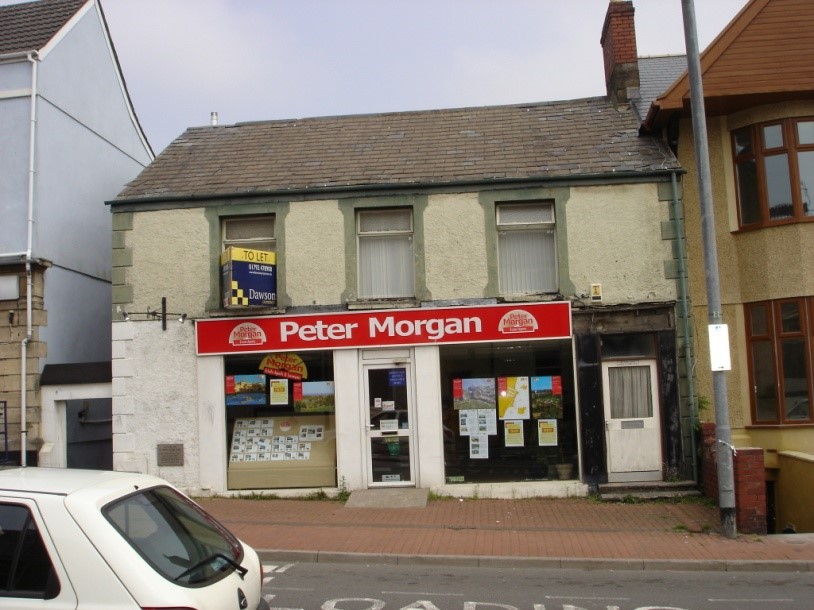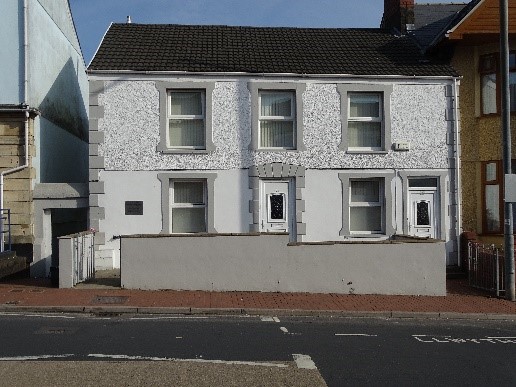 This grocer's son became an M.P.; Barrister; President of the Probate, Divorce and Admiralty Divisions of the High Court and was involved at the highest level, both legally and politically, in all the major issues of the day, especially those relating to Wales. He was a man who never forgot his roots as can be evidenced by his wish to be buried in Skewen.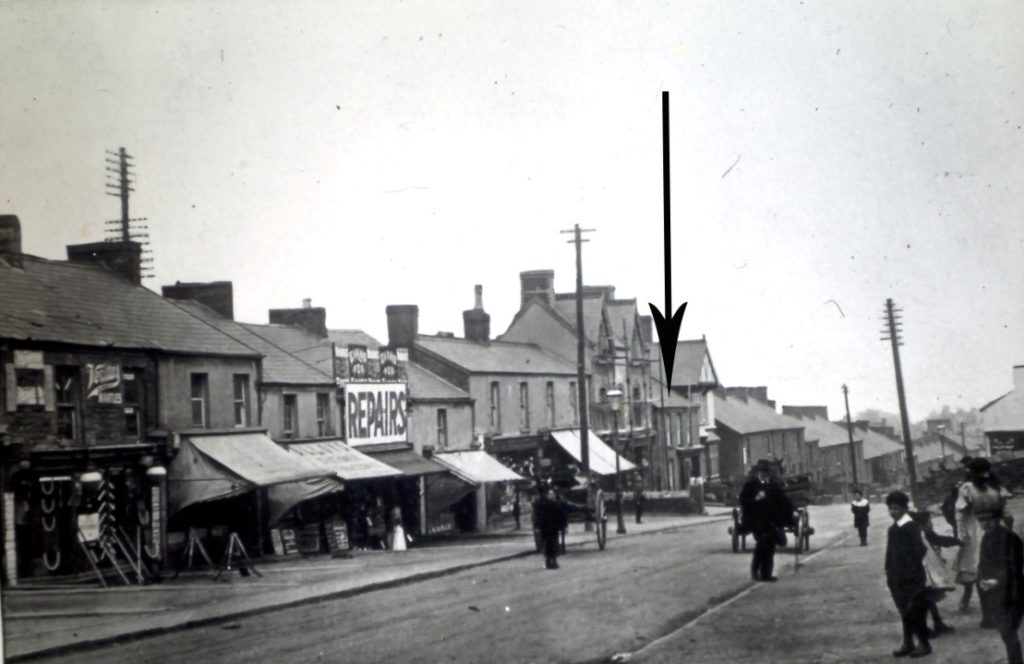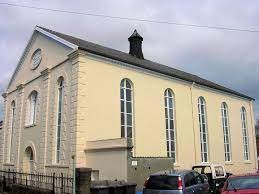 Samuel was born on May 4th 1859. He had two sisters, Rachel and Sarah. His father, John, gradually built up a prosperous business and both he and his wife became very involved in the religious and cultural life of the village — a village that was also growing in prosperity. The family were members of Tabernacle Chapel and took part in every aspect of chapel life. This nonconformist Welsh culture nurtured many eminent Welshmen and S.T. Evans was no exception.
There is some evidence that he attended a 'dame school' in Skewen run by a Mrs Beale. This school had been in existence since at least 1847 as it was mentioned in the Education Inspector's visit that year. Many 'Dame Schools' were run from private houses and could have been the equivalent of our modern day nursery schools. Whatever the case, Samuel's formal education began at Y Capel on Burrows Road which had been built in 1843 and erected as a schoolroom as well as for purposes of worship. In 1859 the Headmaster was Mr William Francis and the schoolmistress was Miss Marianne Richards. From there he went on to Neath Abbey Works' School, established by the Quaker Price family. His secondary education started at Swansea Collegiate School where he was regarded as an outstanding scholar. From there he was enrolled in the newly established University at Aberystwyth, an institution that had been largely funded by collections of money given by all sectors of the public. The passion for and belief in education was very much a part of the Welsh identity and the years spent in Aberystwyth were a hugely formative influence in S.T. Evans' life.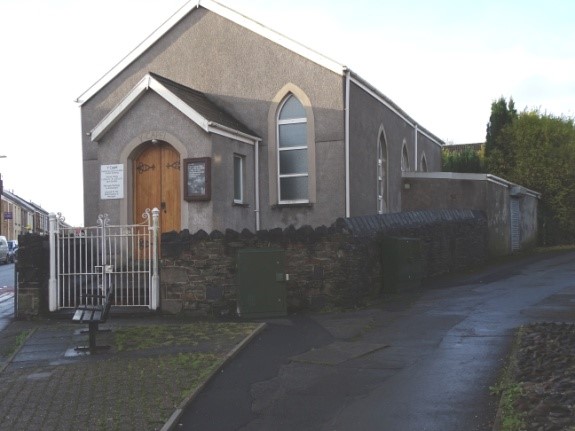 He graduated with a first class degree in Welsh and although his parents hoped he would join the ministry, 'S.T' (as he came to be known) was of the firm belief that his future lay in the law and politics. So, on leaving Aberystwyth, he became articled to Robert Scale, a Neath solicitor and, in 1883, he passed his final law examinations with honours. Following this success he entered into partnership with Alderman Pendrill Charles, a local solicitor and borough Councillor. Once again, his skills and energy stood out and he became an admired advocate in the local courts.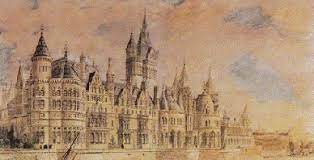 It was now, in 1887, that he married Rachel, the daughter of William Thomas, the 'copper man' of Skewen and they set up home at 'Ravensworth', Lewis Road, Neath.
S.T. Evans can be described as a Renaissance man. Not only did he demonstrate amazing skills as an advocate but he was also gifted as an organist, singer and conductor of music festivals. He had a special interest in hymn tunes, like his father, and composed the hymn 'Maesteg', which was to be sung at his funeral. He was also a talented artist and enjoyed dramatics.
As to his political beliefs, they were radical, and he became a member of the Neath Liberal Debating Society. He won a seat on the local council but was defeated in the County Council elections by Newall Moore of Longford Court.
Yet all his successes were to pale into insignificance due to the tragic loss, after only two years of marriage, of his wife, Rachel, who died in 1889, leaving a son, Horace. In 1890, one of the two sitting M.Ps for Glamorgan, C.R.M. Talbot died. The other sitting member was Hussey Vivian. At the time, the Redistribution Act and the Reform Act had revolutionised political democracy resulting in the Radical wing of the Liberal Party growing at the expense of the Whig aristocratic element. It was now that S.T. Evans established himself as a prospective candidate for the vacant Mid Glamorgan seat and in the elections he was returned unopposed. He was described as "a militant nonconformist and Home Ruler". In the same year, another solicitor was returned for Caernarfon Borough, a man by the name of David Lloyd George.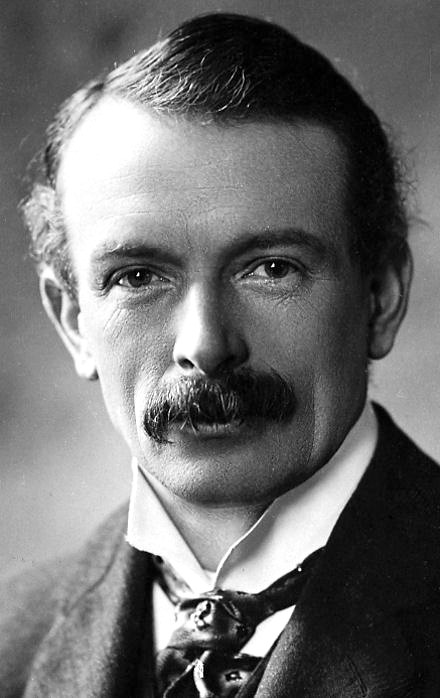 Both self-proclaimed their position at the forefront of the Welsh Nationalist movement. In Skewen, the news of his success was received with great enthusiasm and his father declared "The people have done their share, it is now your turn." He continued to represent the Mid Glamorgan seat until 1910.
'S.T' was not a man to hide his light under a bushel and he soon made a name for himself for his staunch pro-Welsh and anti-establishment beliefs. In 1890, not long after his election, when a toast to the Queen was raised at the Lord Mayor's Banquet and the National Anthem was played, he stayed seated. Although this was viewed with much disfavour, it has to be said that Welsh Home Rule had begun to disturb the political scene.
The following year, 1891, saw Sam Evans and Lloyd George standing together to fight what they saw as the unfair attitudes of Government to Welsh issues. In April of 1891, Sam Evans was admitted to the Middle Temple and in June of that year he was called to the Bar. He soon became one of the busiest jurists on the South Wales circuit. Although he soon acquired a considerable reputation in South Wales, he regretted that he could not spend as much time in Parliament as he would have wished.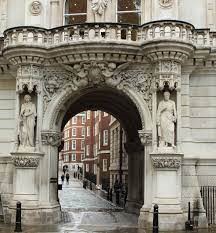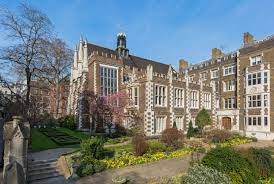 Although he could be a formidable political enemy, by nature combative and not always willing to concede, he was also known for his acerbic wit. On one occasion, when in a Committee, the Chairman objected to some of his remarks. 'S.T'. replied "very well, I will readily withdraw any observations you are afraid I might make."
In the 1892 election, the Liberals were returned to power and 'S.T' continued to fight for Welsh interests, but the 1895 election saw the Tories regaining power, which they retained until 1906. The Liberal Party was in disarray and now a new political force emerged – that of industrial workers beginning to form an organisation of their own.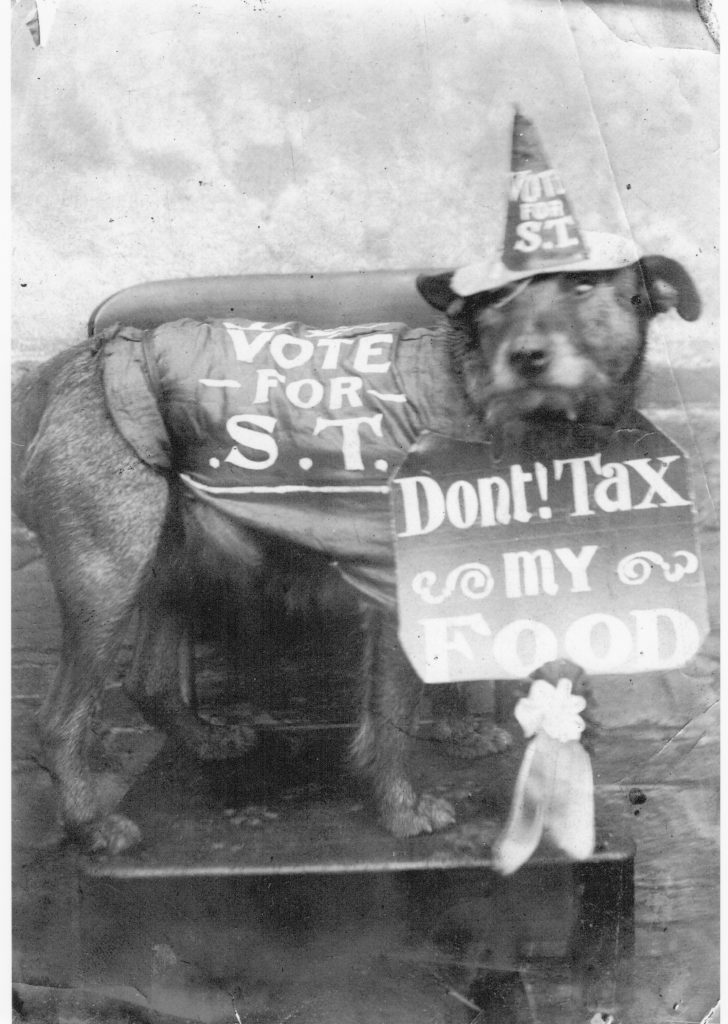 Sam Evans was returned to Parliament in the 1900 election but the Liberals suffered from arguments over the Boer War. Sam vigorously condemned the way the war was being handled by the Government and gave reasons as to why the war should never have been fought.
These speeches were regarded as superb political performances with "a deadly precision in driving home each point" and the media were almost unanimous in praise of Evans for exposing the infamous side of the war. The following year, S.T. Evans applied for an appointment as Queen's Counsel and was the last Q.C. to be appointed under Queen Victoria.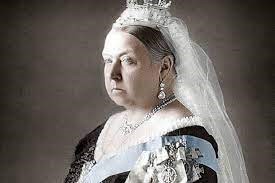 Yet, despite all his many duties and responsibilities, Samuel still found time to come to events in Skewen. In 1894, the Coedffranc Boys' School was built and S.T. was the main speaker at the opening. In the same year, the Coedffranc Parish Council meeting was held with S.T. as Chairman.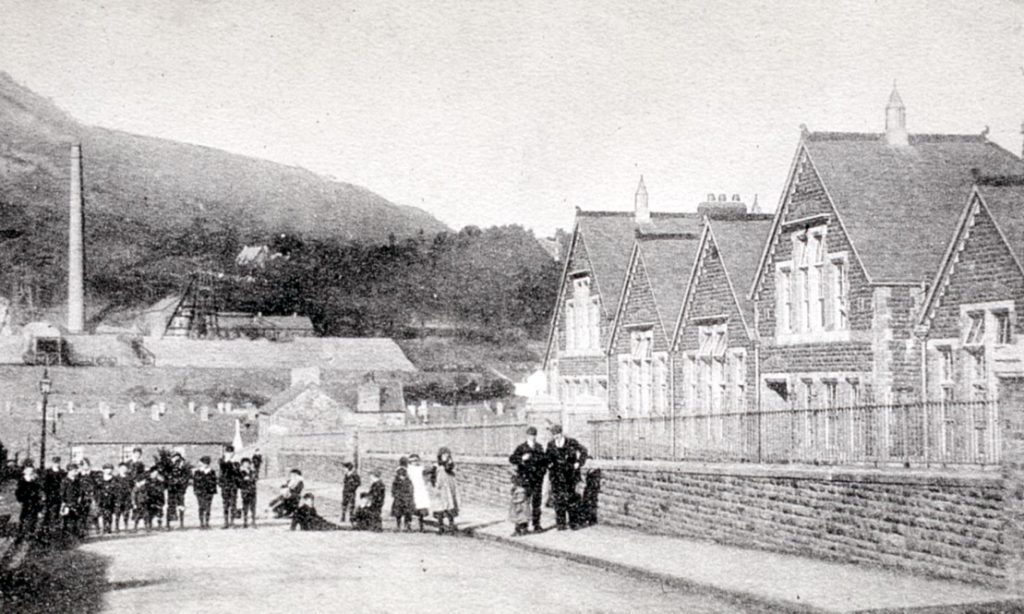 The following year, he laid one of the foundation stones of Calfaria Chapel. In1903, overcrowding led to a new Coedffranc School being built and once again, S.T. Evans was there at the opening ceremony.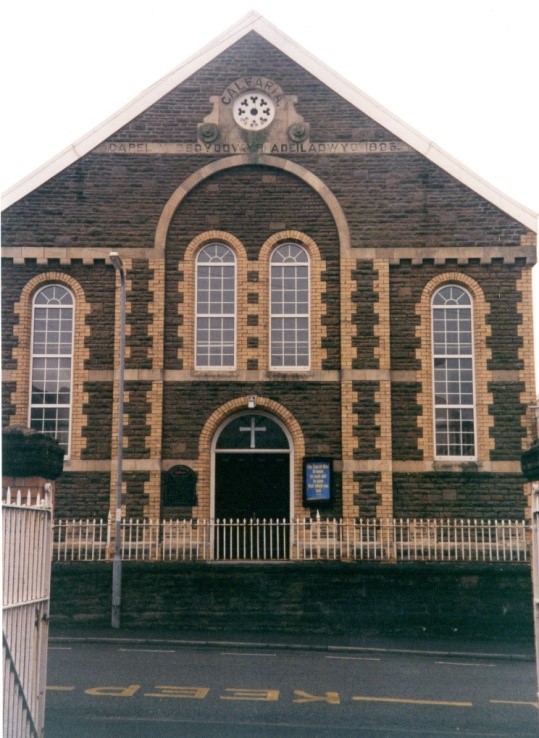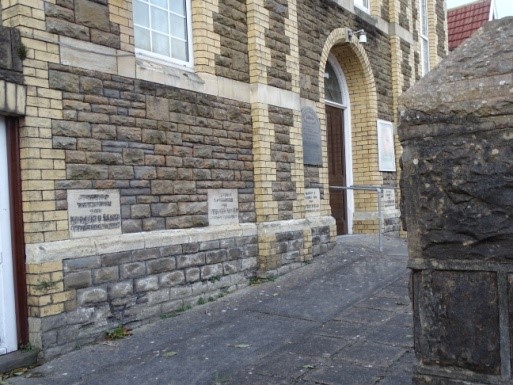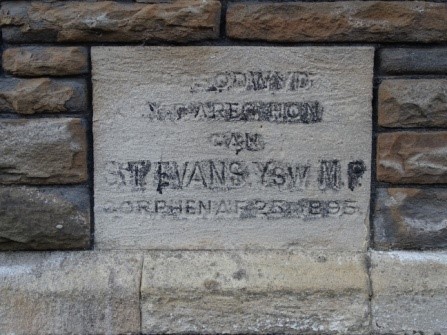 Samuel's father, John, died in February 1895. Samuel was sent a telegram by Dr Lewis while he was at the Glamorgan Assizes and so he and all the family were at the father's bedside when he died. The funeral took place at Tabernacle Chapel where Mr Evans had been a senior deacon, trustee and treasurer. The pew where he normally sat was draped in black. He was survived by his wife and the two married daughters, Mr and Mrs Samuel and Mr and Mrs Edward Powell as well as two granddaughters and one grandson, Horace, Samuel's son.
His personal life was enriched in 1905 when he married Blanche Rule de Pinto, with whom he eventually had a daughter, Gwendolen Margaret. They were married at King's Weigh House Church in Grosvenor Square, London and, after a brief honeymoon in Paris, the couple set up home at 11, Lancaster Gate, London.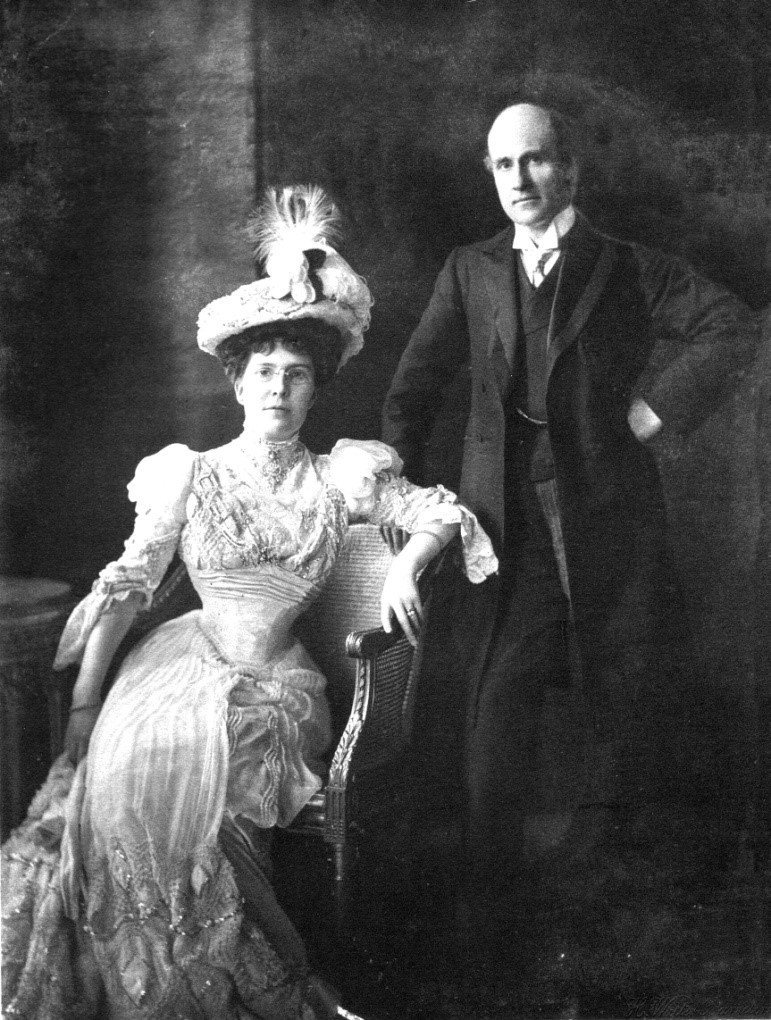 Blanche was the widow of Mr Herbert de Pinto and the daughter of a Cincinnati industrialist. Both S.T. and his wife were now to play a major part in one of the most important developments in the history of Skewen. The Parish Council had, in 1903, asked for S.T's help in securing a grant from the Andrew Carnegie Trust to build a public library in Skewen. He was successful in his application to the Trust, which granted a sum of £2000. The National Archives of Scotland contain letters that 'S.T.' wrote to Andrew Carnegie's secretary and indicate that he spent considerable time and effort to ensure that the application was successful and that all parties were happy with the proposals.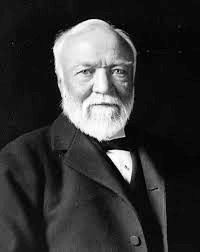 The Parish Council of the day were fulsome in their praise of the time that 'S.T.' had spent on their behalf. A site was subsequently given by Mrs Dorothy Coombe-Tennant, a penny rate was agreed and a contract drawn up by Price Bros of Cardiff. So, on June 10th, 1905, the Carnegie Free Library was opened by the new Mrs S.T. Evans, with a golden key. A bouquet was presented to Mrs Evans by Miss Mary Rees, daughter of J. Cook Rees, the architect.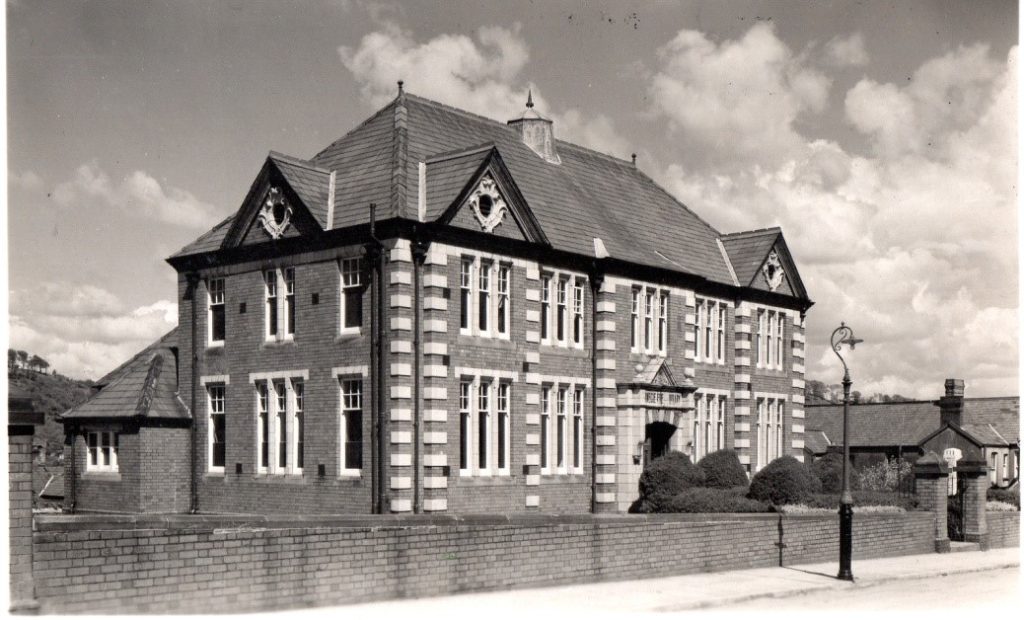 1906 was another good year for S.T. Evans. He was returned unopposed in the General Election, which was won by the Liberals, and he was also appointed as Recorder of Swansea (until 1908), an office of profit under the Crown. His law career was also in the ascendancy for, in 1908, he became a Bencher in the Middle Temple and was appointed to the high office of Solicitor General by Campbell Bannerman, the Liberal leader. He was knighted upon taking office.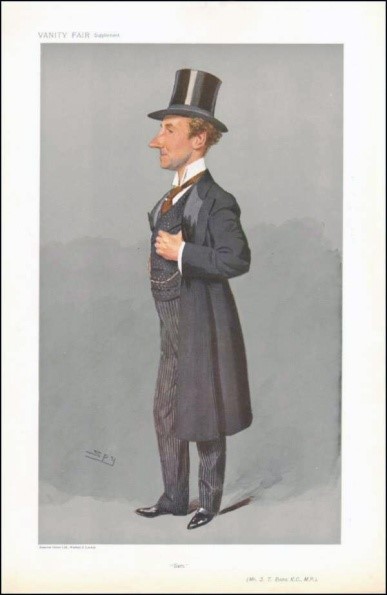 However, there is one aspect of Sir S.T.Evans' career which may not sit well with people today, and that is his attitude to female Suffrage. The South Wales miners, despite their continued fight against injustice in their industry, found time to champion the cause of Votes for Women. Sir S.T. Evans was opposed to this, perhaps in part due to the violent actions of the more militant suffragettes. Whatever his reasons, he voted against the Women's Franchise Bill of 1906.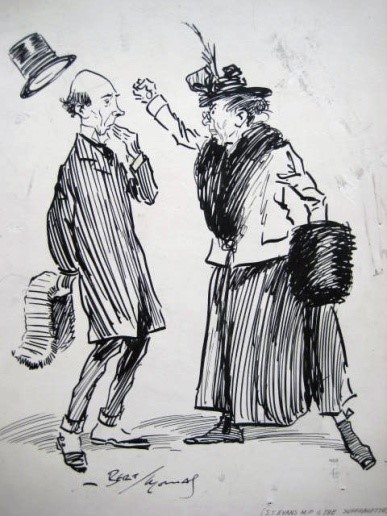 In other areas, Sir S.T. Evans was a formidable supporter of Lloyd George and his proposals for taxes on higher incomes and the establishment of old age pensions. In the 1910 election he again won a resounding victory and a huge procession escorted him from Neath to Skewen.
Sir S.T. Evans now became involved in one of the most fascinating legal cases of the time, which sparked huge national interest. It was known as the Archer – Shee case. This was later the subject of a play by Terence Rattigan, "The Winslow Boy", which also inspired two films of the same name.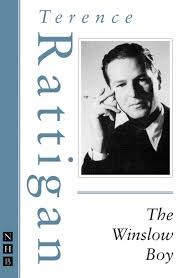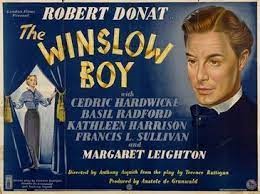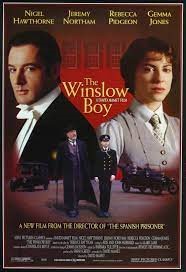 The case revolved around the expulsion of an Osborne Cadet for the alleged theft of a five shilling postal order. The boy's father was determined to fight the case, leading to a High Court action in which Sir S.T. Evans appeared for the Crown. However, before the case ended, he was appointed to the Presidency of the Probate, Divorce and Admiralty Division of the High Court and Sir Rufus Isaac took over from him. Both later admitted that they had been troubled by the case, which ended after a few days with the boy being acquitted. His appointment in June 1910 to the Probate, Divorce and Admiralty Division meant that 'S.T' now occupied one of the highest offices in the legal world. He received many letters of congratulation, one of which, from Sir Edwin Cornwell, MP expressed regret that he would no longer be in Parliament : "I have watched you closely and with great interest during the last Parliament and came to the conclusion over and over again that you were the greatest Parliamentarian in it". High praise indeed for a grocer's son! Sir S.T. Evans was also reluctant to give up his parliamentary career and in some ways this was not a popular appointment as he had very few apparent qualifications for the post. Some of the work was highly specialised and one critic observed: "Sam Evans would not know one end of a ship from the other".
But, in true Sir S.T. Evans fashion, he set about researching and mastering the technical difficulties and he even spent holidays at sea to enable him to better understand the cases that came before him.
Two more cases during this period will surely resonate with people today as they concern dramatic and tragic occurrences. In 1912, the liner 'Titanic' sank following a collision with an iceberg. Before the families of the deceased could claim insurance, the missing person had to be officially declared dead so as to prevent false claims about who had actually been lost at sea.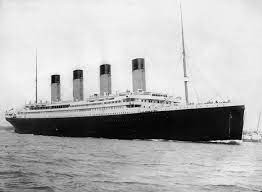 In 1912, Sir S.T. Evans passed a motion to swear the death of Thomas Parnham Franklin of Westcliff on Sea, Essex. He heard evidence that the deceased had written two letters while on board in which he mentioned meeting Mr Bruce Ismay (Chairman & Managing Director of the White Star Line) and talking about the ship. Ismay was called to give evidence and verified that the deceased had booked first class passage on the ship and that he was not among the list of survivors. Sir Samuel therefore ruled that Mr Franklin had lost his life in the sinking.
The previous year, the country had been shocked by the case of Dr Crippen who was accused of murdering his wife. He fled the country with his lover, Ethel Le Neve, but was arrested in Canada and returned to England for trial where he was found guilty and sentenced to death.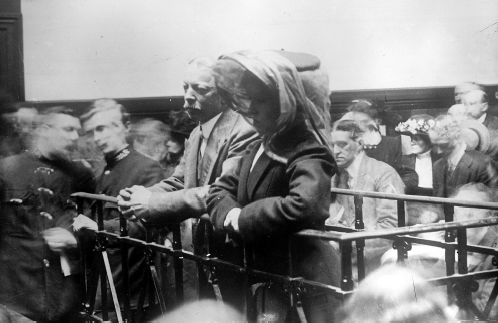 Dr Crippen made a will naming Ethel Le Neve as the sole beneficiary of his murdered wife's fortune. Sir Samuel was called upon to judge whether she was entitled to the woman's fortune. He refused to allow Mrs Crippen's estate to go to Dr Crippen's lover stating: "It is clear under the law that no person can obtain or enforce any right resulting to him from his own crime, neither can his representative ……. obtain or enforce any such right". This was an important decision of principle for the law courts at the time.
However, it was his work in the Prize Court that had been set up in 1914 that sealed his reputation as an international jurist of the highest rank. He showed an acute understanding in many cases involving, for example, contraband goods of British, enemy and neutral ships during the First World War. The quality of his judgement surprised even his friends to the extent that he has been described as "the founder and brilliant exponent of modern Prize Court Law"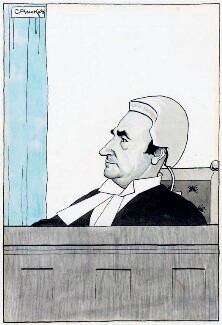 During his lifetime, Sir S.T. Evans was showered with many awards and distinctions: Privy Councillor in 1910; G.C.B. (Knight Grand Cross of the Order of the Bath) in 1916; Honorary Doctor of Law Degree in 1916; Freeman of Swansea and Neath; J.P. for three Counties and of course, MP for Mid Glamorgan for so many years. He was also offered a peerage but declined this honour for personal reasons.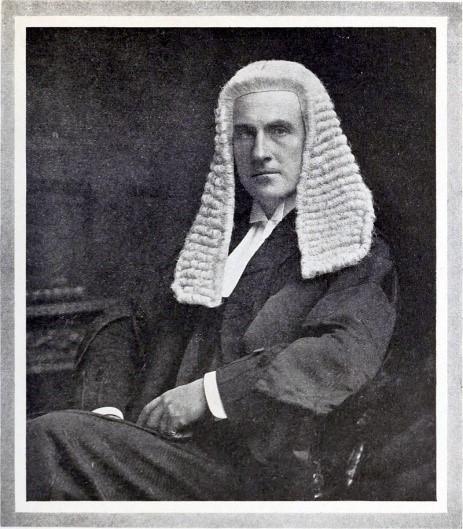 He was such a hardworking man that in February 1916 he even held a sitting of the Prize Court at home in his dressing gown. This was due to a bad attack of pleurisy following a serious accident the previous Dec-ember when he was knocked down by a bus outside the Law Courts, fracturing his leg. He wrote to the pastor of Tabernacle, thanking him for the Chapel's vote of sympathy following this accident and apologised for having to write in pencil because he had to be prostrate! He returned to work —- on crutches —– in March 1916.
Summer 1918, however, saw 'S.T's health failing him and he fell seriously ill following an operation. Sir Thomas Hughes, a contemporary, met him shortly before his death and wrote: "The last time I saw him was on the front in Brighton and it was easy to see that my old friend was broken and dispirited. Soon after, on the eve of the Armistice, he died from, I am convinced, overwork".
A month before, in August 1918, David Lloyd George received the Freedom of the Borough of Neath. In his speech he spoke warmly of his friendship with Sir S.T. Evans.: "I have known Sir Samuel Evans for certainly nearly thirty years. I remember having the pleasure of staying the night here at the house in Skewen where I had the privilege of meeting his fine old father, who left a deep impression on my mind".
King George V sent a telegram to Lady Evans following her husband's death in September 1918, expressing his sorrow at the irreparable loss which she and the Empire had sustained. He went on: "In Sir Samuel Evans we have lost one whose name will ever rank among the great judges of prize law"
His body was returned to Skewen, the village that he never forgot. His coffin was brought from London by train, accompanied by his wife, Lady Evans, their young daughter Gwendolen and a few close personal friends. The train did not stop at Skewen, as requested, so the funeral cortege had to proceed from Neath Railway Station to Skewen. The funeral was the largest ever seen in the village. Thousands lined the streets and houses along the route had their curtains or blinds drawn. The service was held in Tabernacle Chapel where Samuel and his family had worshipped regularly. Both this and the interment service in St. John's Churchyard were simple and brief at the express wish of Sir S.T. himself. There were no flowers. His wife, Blanche, died in 1932 and is buried alongside her husband. (His sister, Rachel, who had married W.F. Samuel, a schoolmaster of Fforestfach, was also buried in the churchyard in 1919)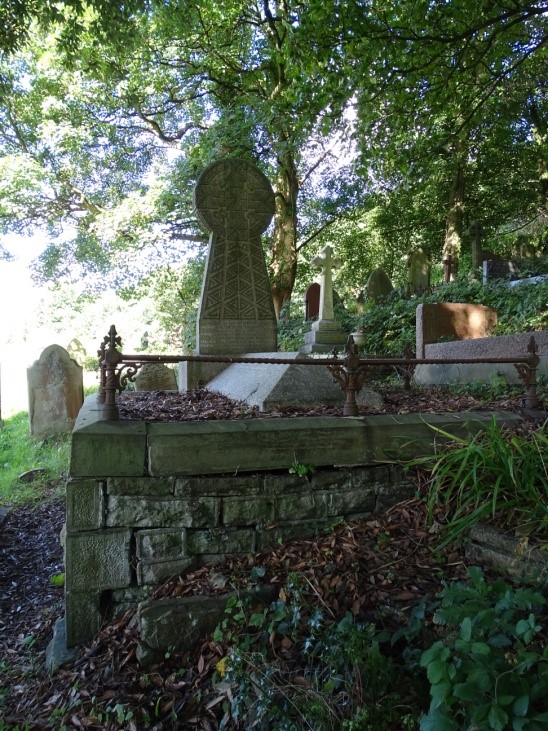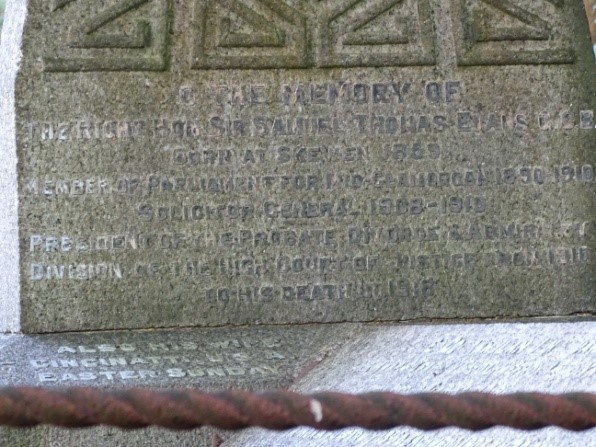 In 1921, a marble bust of Sir S.T. Evans, by Sir George Frampton, R.A., was unveiled by the Lord Chancellor, Lord Birkenhead. It was placed in the corridor opposite the Lord Chief Justice's Court. He is quoted as saying that "no more accomplished Parliamentarian than Sir S.T. Evans had occupied the position of law officer and that had he not surrendered his position as Solicitor General he would have become Lord Chancellor and a very great one at that". There are portraits of him in the Middle Temple and at the University College of Wales, Aberystwyth. Later, a national fund to perpetuate Sir S T Evans' memory was set up, eventually transferred to the University of Wales where it was used to establish an annual prize for the best student in the faculty of law.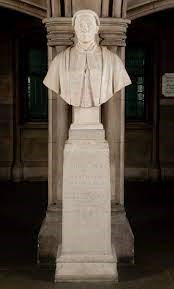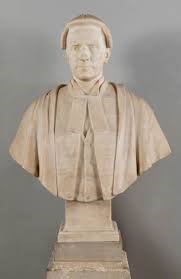 In 2009, a Thanksgiving Service took place in St. John's Church to mark the 150th anniversary of Sir Samuel Evans' birth and in 2018, a small service was held at the graveside, led by Canon Brian Lodwick M.A. (Oxon), M. Phil, F.S.A., F.R. Hist. S., to mark the 100th anniversary of his death. So Skewen has tried to remember the life of Sir S.T. Evans over the years and now, the Skewen & District Historical Society is proud to be in receipt of a Heritage Lottery Grant to refurbish Sir S.T. Evans' grave and to bring the life of this incredibly talented and hardworking man to the notice of this and future generations. He should certainly never be forgotten.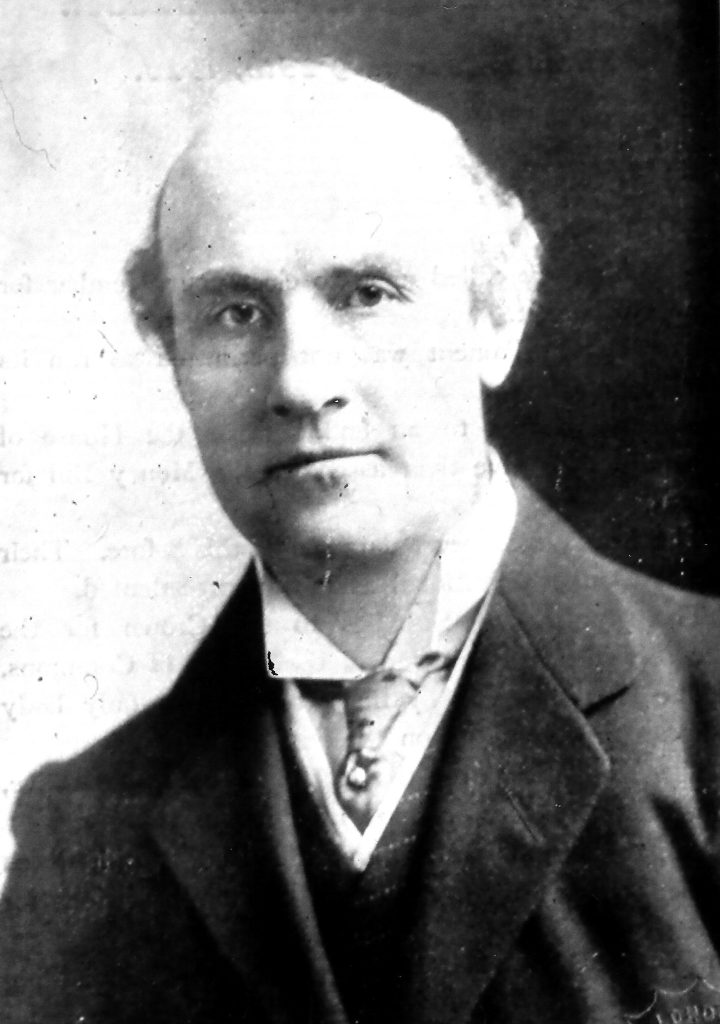 Views of Skewen as Samuel would have known it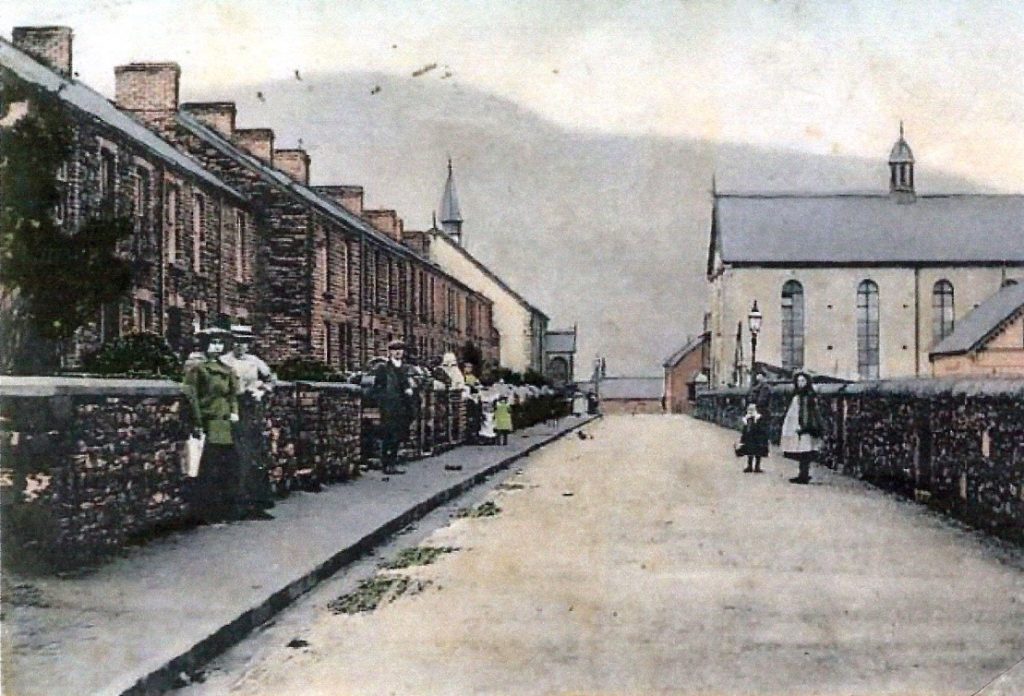 Samuel's Skewen home is located by an arrow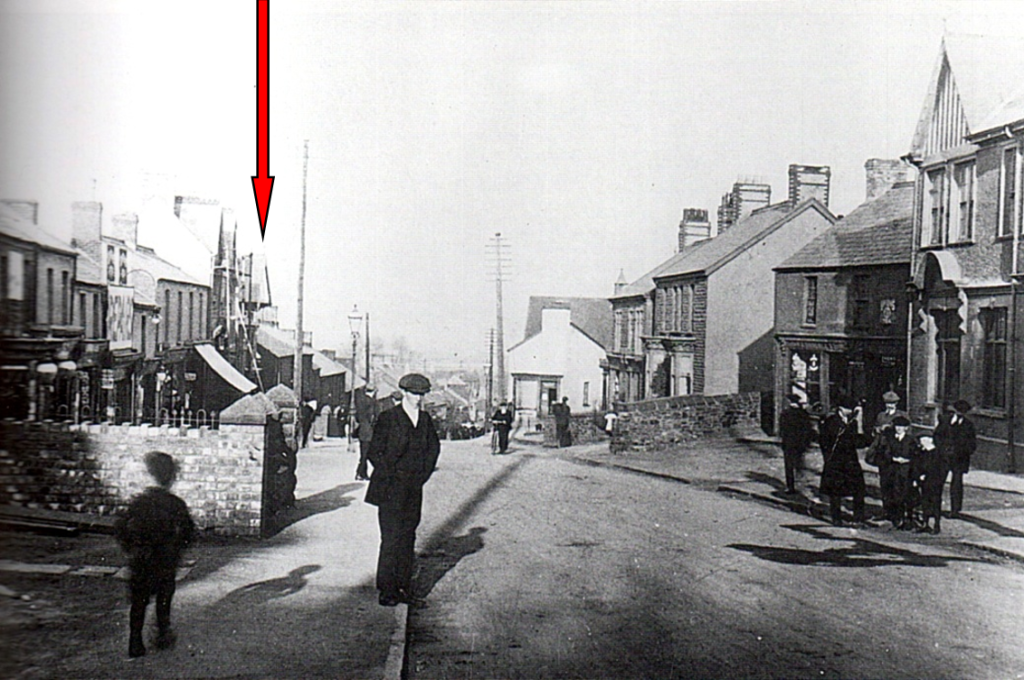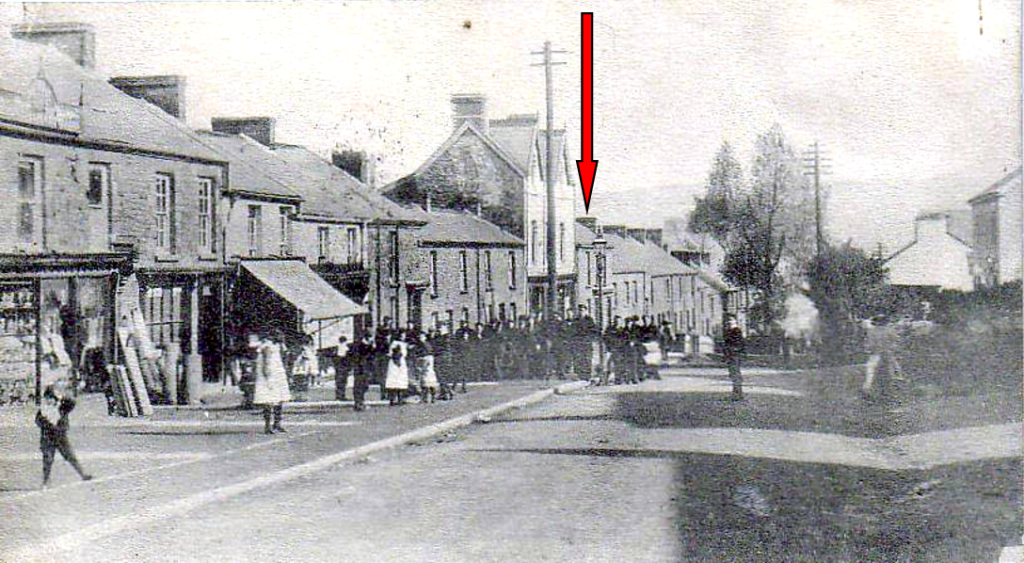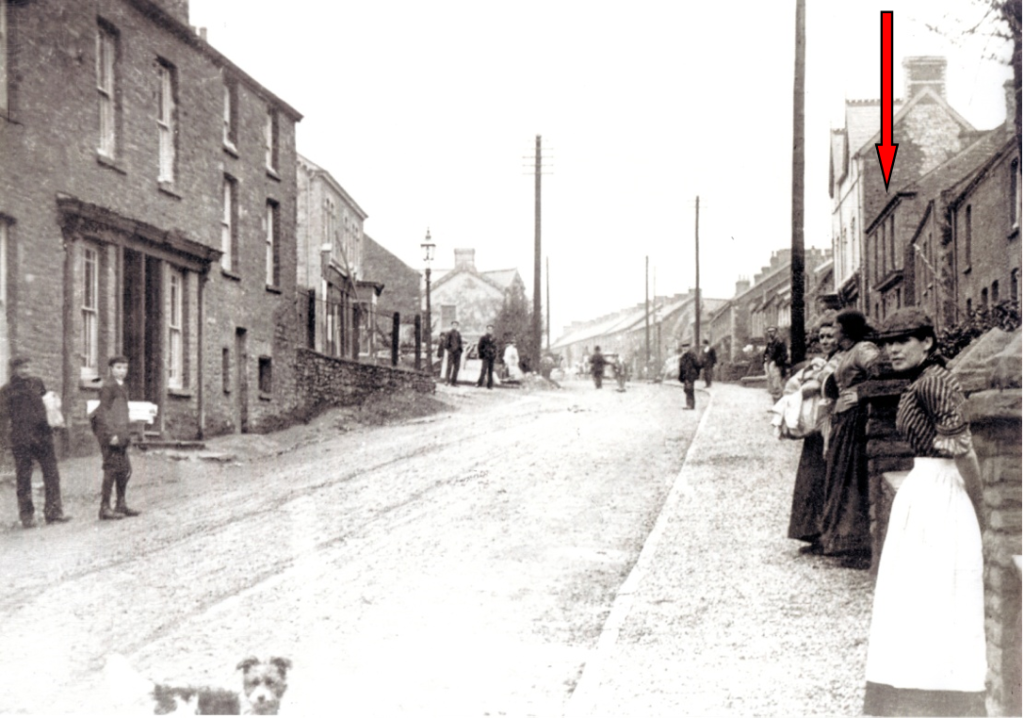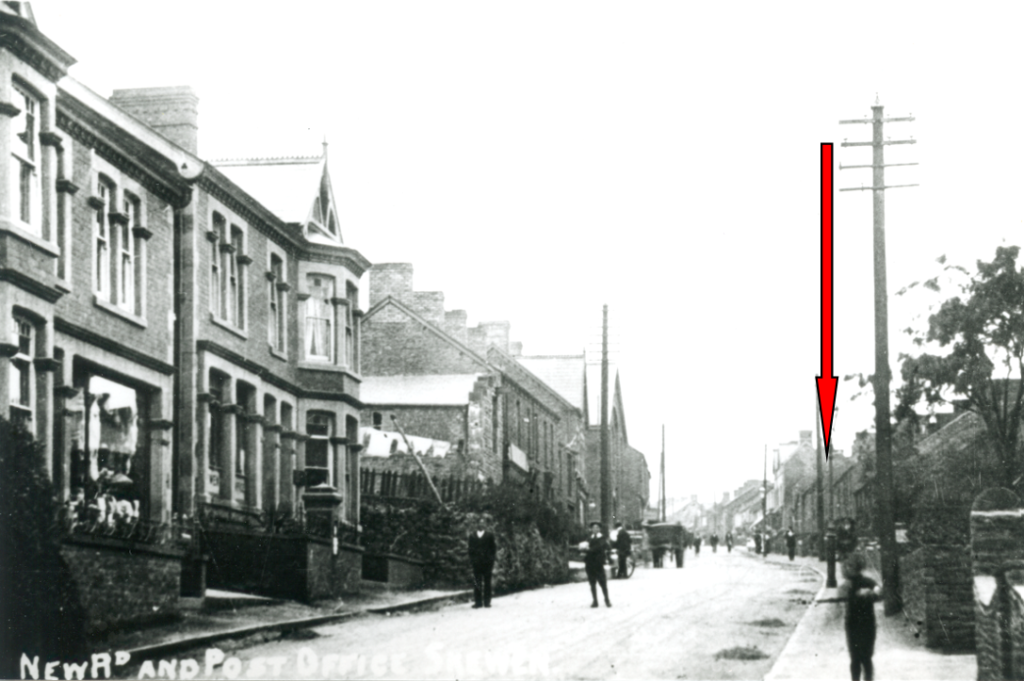 Sources
'Sir S.T. Evans: judge and politician' by George Eaton. Neath Antiquarian Society Transactions 1980-81.
Welsh Newspapers Online
Dictionary of Welsh Biography
Wikipedia
The Evening Post: Sept 14th 2018. (Interview with J. Stuehmeyer)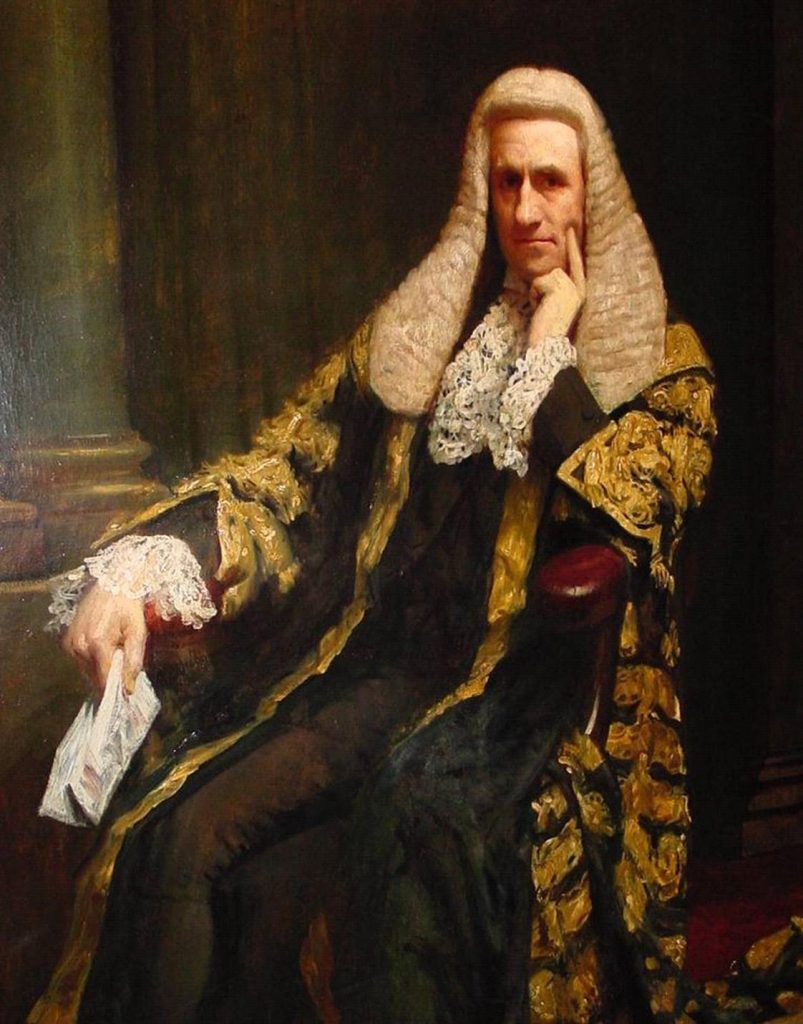 Acknowledgements
The Society wishes to thank:
The Heritage Lottery Fund for Financial assistance
Skewen Men's shed for erecting the plaque
Mr. Paul Morris for recording the English and Welsh audio versions of the information.